Receiving a package from London, I added a few new stickers to the laptop. I shared the remaining with colleagues after giving a quick overview of our evolving user reach efforts in an all-hands meeting on Tuesday. All German 'You ≠ user' stickers placed in the office were gone by the end of the week. This updated version uses more inclusive language than the previous one created for Public Service Lab 4 years ago.
The sticker also led to a short discussion about when they are handy and when not. A colleague argued that putting them on your laptop and then sitting across actual users might not be ideal, as it might lead to confusion, perceived rejection of their experiences or eroding trust. My colleague might have a point. But for internal usability tests, where our computers could be seen, we are using a separate test laptop. And the false-consensus effect is genuine, so we need reminders about it. It's all too easy to project our behaviours and reactions onto users. The sticker can be a little reminder.
Writing and talking about digital and its user benefits
The talk I gave in the all-hands session to colleagues on Tuesday was a straightforward one and only 3.5 minutes long. I gave an overview of what we mean by user research, why it matters, what it looks like, and what we do to evolve it at the DigitalService.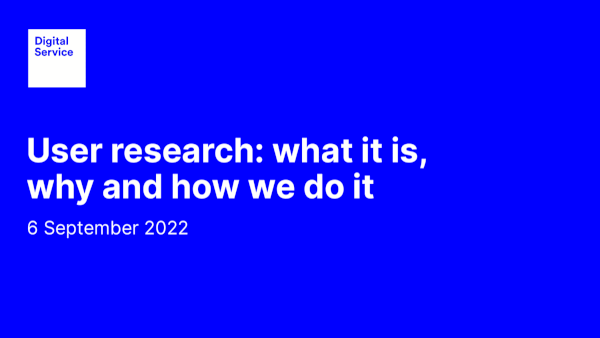 There was not an immediate need for it. But: we have been talking about user-centred design approaches quite a bit – and you never know what understandings and interpretations people have. Also, we have about 5 new starters every month, and they come from all kinds of places with possibly lower user-centred design maturity. So making sure everyone has a shared point of reference is essential.
The input received some positive feedback and was meant as a soft springboard for more dedicated user-centred design onboarding in any way.
Designer AC has picked this up with an accessibility angle and created a draft of a 30-min session. It includes inputs and activities. If possible, I'd like to trial it still a preview with recent starters later this month.
On Wednesday evening, I did a different bit of writing. In a conversation with my colleague Sarah, she asked about governments' motivations to digitalise things. Not sure if it was a rhetorical question or not, I went to answer it. We realised that not everyone might have the same view on government and public service digitalisation. So I agreed to write up my thoughts and viewpoints.
The 600-word piece in German captures the usual things like government effectiveness and responding to the people's needs, providing a service to the public it serves. It compares how former government bodies with a strong bureaucratic mindset have been able to shift gears in the past 20 years. German Post and DHL are one example: letting you track a parcel, generate stamps on your phone, or offer digital identity solutions. German Rail is another one with fully digital tickets, including refunds, updated live travel information, the carriage sequence on your mobile phone, and a 'comfort check-in' that automatically validates your ticket with the train conductor. Those former government entities have made much more of a leap than German administration when it comes to digitalisation. Maybe even more than Royal Mail, Post Office and National Rail have in the UK.
Another observation is how private sector start-ups have established themselves, filling the gap in the absence of good public services. Whether it's applying for student loans, filing taxes or verifying someone's identity online, new companies do what government does in other countries. They respond to people's unmet needs.
I might revisit this for an article I'm drafting for the next edition of the Service Gazette we started working on. We'll have to pick up pace in the coming weeks again.
Taking a pan-European view
On Thursday evening, not-for-profit organisation D21 invited to discuss the implementation of the EU's Single Digital Gateway regulation. Its goal is ambitious and clear: offering 21 fully digital services across 27 countries for almost 450 million people by the end of 2023.
EU citizens could relocate from Faro in Portugal to Uppsala in Sweden by just telling one government entity. That entity would then talk to its counterpart abroad, share necessary data and handle internal processes without anyone re-entering information or having to print documents. That's the idea. And the implementation until late 2023 is important to the European Commission as it matches its 50th anniversary of the Single Market, deputy head David Blanchard explained at the event.
The following discussion with Berlin's Chief Digital Officer, Germany's national coordinator for the Single Digital Gateway regulation, and a user-minded professor revealed the significant gaps between the regulation's ambition and its implementation. By the end of the evening, it became apparent that neither municipalities nor the federal states had started any work or were even aware of the work that should be well underway by now.
Single Digital Gateway is one of the topics I would like to pick up with European colleagues. Some formats later this month should allow making space for it. So far, primarily lawmakers seem to have been involved. And they admitted that they are far removed from implementation.
What's next
Next week, we are planning to run a compressed design sprint. It should give a strategic workstream some good push.

On Monday, curious as I am, I signed up for some testing of a native app we have been working on for some months.
I will also help interview more candidates for design and user research roles, as I've already done this week.
PS: As you can see in the picture at the top, I've also made a sticker for this blog and page. It says, 'Design, don't administrate', which plays with similarities of the words in the German language and reflects how public administrators might see their role and sphere of influence.