This was a week on trains. I travelled about 3,500 kilometres across Europe, literally every day, to another city. WiFi was spotty on trains in all countries. So even though everyone thinks their rail company's service is the worst, it's not.
Having face-to-face exchanges again
On Wednesday and Thursday, the team behind beta.gouv.fr, part of the French Prime Minister's office, invited European governments to a 2-day seminar on digital service development. 6 governments and institutions attended, including the European Court of Justice, the Belgian government, Cyprus, and the UK's Government Digital Service. We arrived with a small group from the Digital Service, including designers, product managers and software engineers.
To start, all 6 groups shared who they are, how they work and what they do, which already led to many questions. Then, for more focussed conversations, various unconference slots allowed deep dives into topics like infrastructure and platforms, service standards or measuring impact. The days also left some space for social events and personal exchange. The exchanges reminded me of what an international colleague said after attending one of our events a few years ago: We see borderless challenges and exponential opportunities for working together. My colleagues were able to stay longer than I could, and just a few hours in wondered if we should run a similar event in the future. In the coming days, we need various follow-up calls as there are concrete opportunities for collaboration, which I'm very much looking forward to.
Afterwards, I went to Edinburgh to attend the 'Service Design in Government' conference. I had not been to the event in a few years. It was good to see some Twitter #GovDesign people in person, as this was the first big gathering since the pandemic started.
At the conference, Kara and I ran a workshop titled 'Design culture that delivers'. Even though it was the last session of the 3-day conference, we had 50–60 people join us – exactly the size we were aiming for.
We framed it as a workshop on designing culture, capability, and community. The thesis we presented was that to transform your organisation digitally, you need to change the culture. By comparing various organisations in the public and private sector, in the UK and abroad, we have seen patterns emerging. Independent of the industry, organisations use similar elements to establish design and grow design maturity. In the context of the workshop, we called building blocks.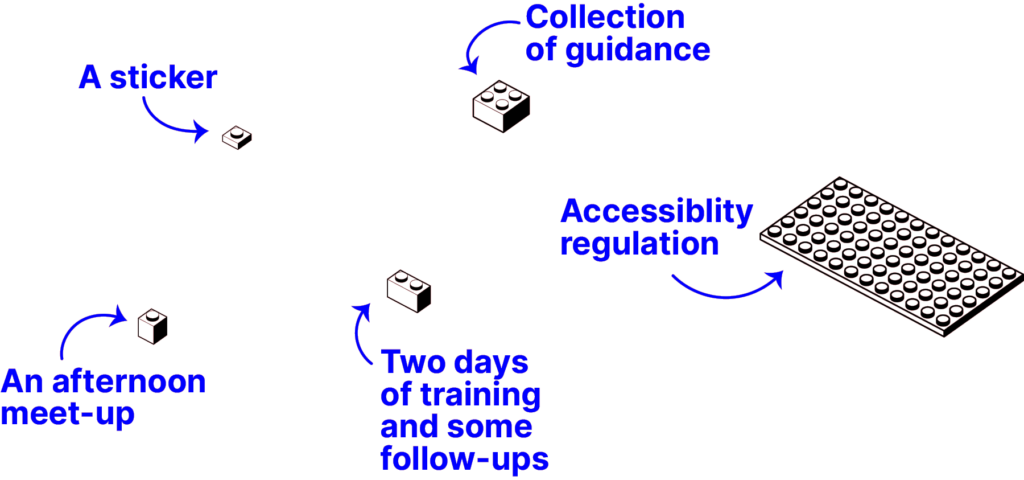 I made an illustration to communicate what we mean: A sticker on its own might have little impact, an afternoon meet-tup a bit more, and some training even more. There are smaller and bigger building blocks. In this example, accessibility regulation might be the biggest building block here. But even the tiny sticker carries weight as it might communicate the importance of the regulation and introduce it to people who haven't heard of it and didn't know about its existence. In the context of the GOV.UK Service Standard and Service Manual, we talked quite a bit about the social life of information. It gets forgotten if no one talks about a potentially powerful bit of policy. It requires engagement to remain important and relevant.
So we are talking about building blocks as reinforcing elements in a complex system.
In the context of service design and transformation, we also offered some definitions:

Digital transformation
Joined up, end to end, equitable, user-centred services that work for the internet age, yet do not exclude.
Design culture
The things that guide and inform designers work life as well as design across the organisation – community, principles, standards.
As we wanted to help people have open conversations, we used scenarios rather than people's own experiences from their work context. Enjoying that a lot, I wrote 3 scenarios at different organisational levels:
a digital service manager in Argleton County Council who needs to sort out onboarding for new designers in the council after it didn't go too well before
a UX principal at the Office of Rail and Road who has to build an all-new booking website and app by early 2023
a relatively new Chief Design & Engagement Officer at the Department for Digital, Culture, Media & Sport who is tasked with building a user-centred design function but has no background in design and doesn't know where to start
We had participants look at symptoms for low design maturity in their scenarios and then work on individual interventions and then devise a plan that combines a number of building blocks.
We gave everyone a sheet with 16 design maturity building blocks and a design maturity quiz.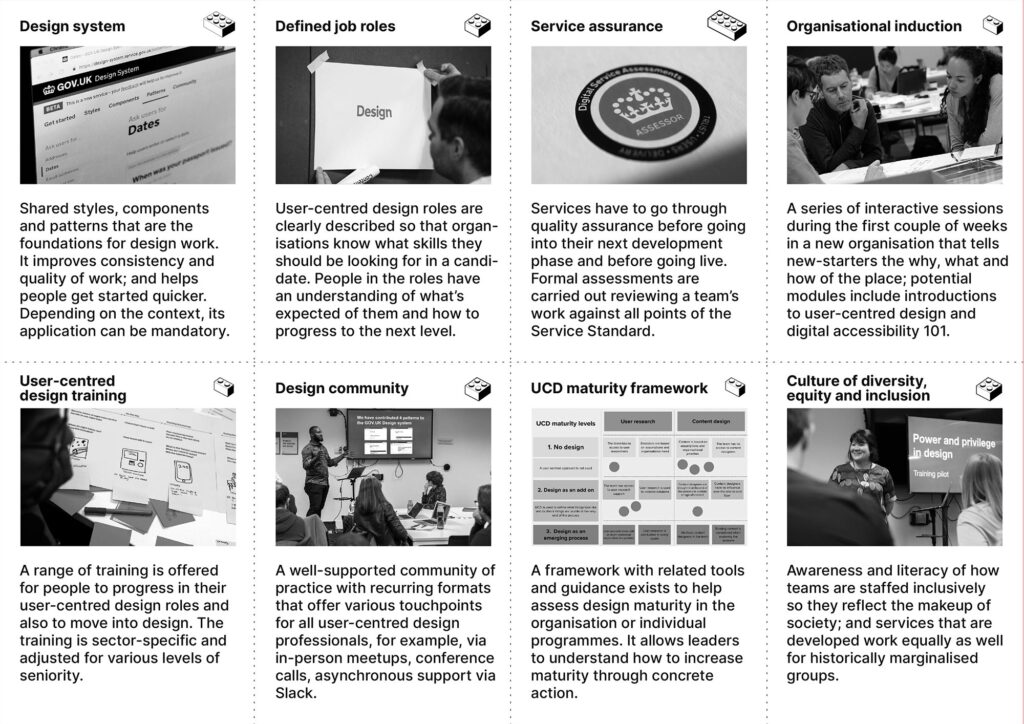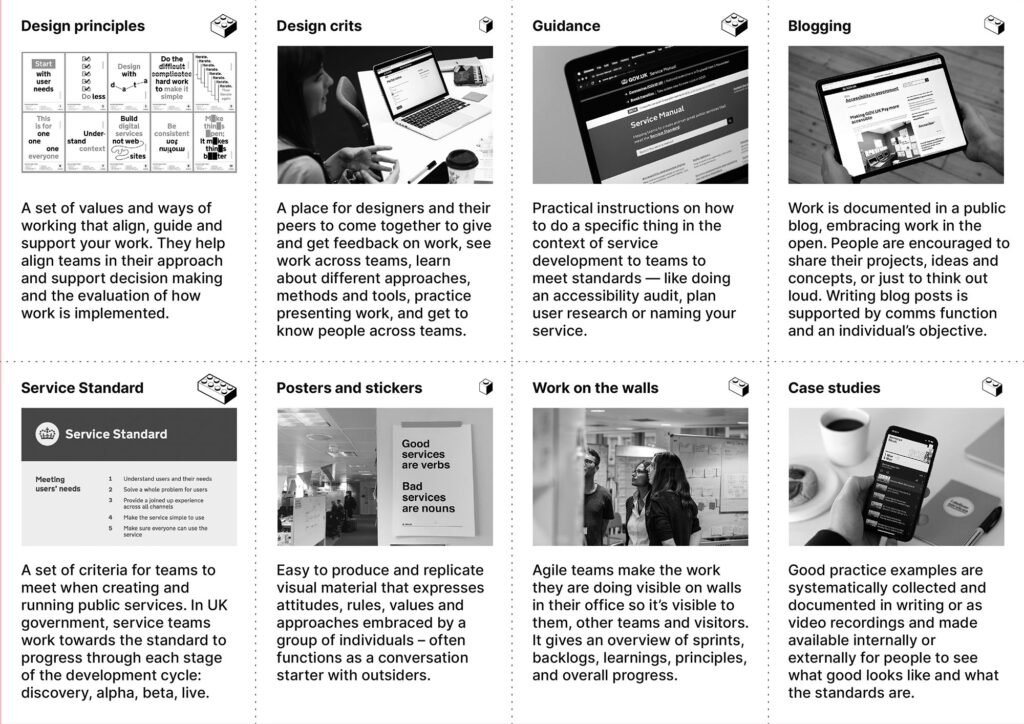 For German government, there are still relatively few building blocks in place. But we are working on establishing more and strengthening existing ones, like the service standard.
What's next
Next Thursday, my colleague Nadine is going to speak at the Berlin Product Designer meet-up. That is the second talk from our team in just two weeks, and it will be a different, newly developed talk.
We need to write up the Paris seminar for the Digital Service blog. And a few more texts are also in the making.
We also have 2 new starters in the design team, joining two different justice projects. It's a pity they missed our design team away day last week. We better reserve time for another one in early 2023.