Among very few other things, most time went into hands-on design support for the big closing event for our 2022 Tech4Germany and Work4Germany fellowships.
One of the other things was attending a cross-departmental corporate design workshop organised by the Federal Press Office. The small team there gave an update on the Federal government's style guide and further ongoing development of applications in certain media. They invited suppliers to present work in progress and also share the results of an accessibility audit on style guide components and their applications.
The event was well-attended, with representatives from all Federal ministries managing their department's communications, public relations and social media. It was great to see a cross-government exchange and feedback loops for design components and patterns. Now, I'm looking forward to some other exchanges soon.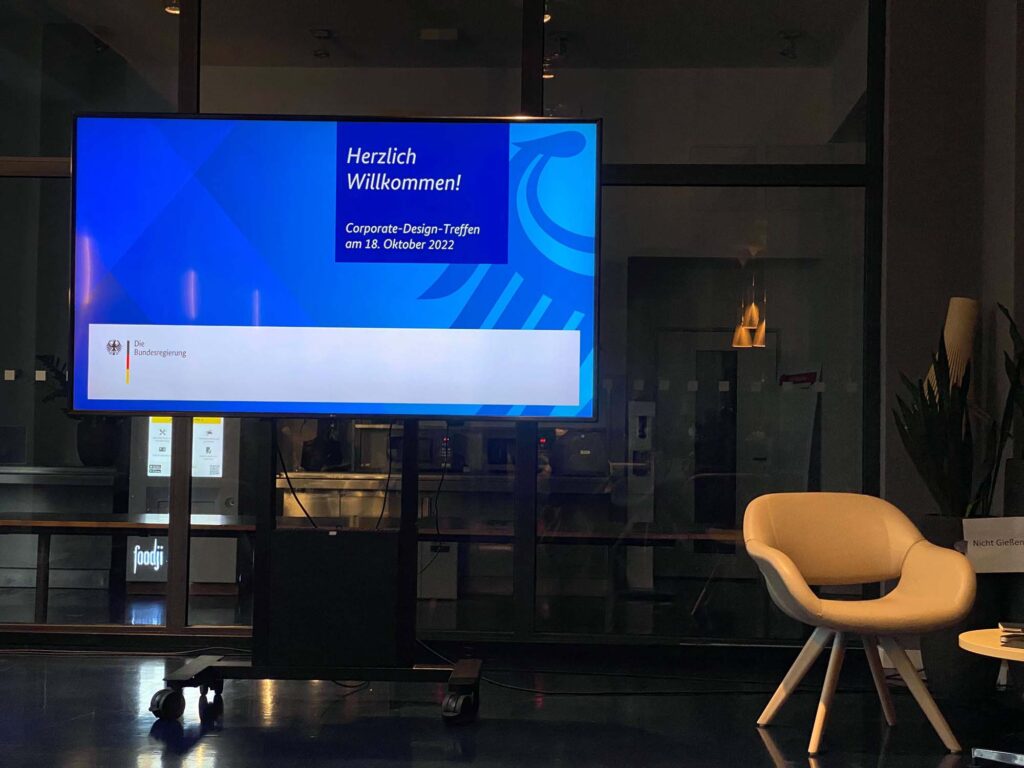 Sometime in October, Digital Service celebrated its second birthday. However, it was less of a focal point with various other achievements – like growing the organisation to 100 people, launching new products and reaching yet another 100,000 user milestones for the property tax service.
We made a sticker, though. My colleague Daphne went all sparkly and confetti. And it was the first time we printed with the Sweden-based printer StickerApp. The quality is solid but not overwhelming. They also offer glow-in-the-dark options, which I'm eager to try.
As our communications designer was off sick, I had to jump in and help finish dozens of posters, signage material, lanyards, large-print project presentations and workshop material for the fellowship event at the end of the week. I could build on many sketches and pre-work, but other materials, including animations, had to be developed from scratch. My graphic design skills might be a bit rusty, but things came together in the end and looked pretty consistent.
Transforming government ways of working and thinking
Even before joining Digital Service, I've been in touch with the fellowship programmes. In 2020, I helped select the projects for Tech4Germany. In 2021, I created a learning module on agile ways of working for Work4Germany. But only in the last few months could I see the programmes and the teams' work from less of a distance.
After months of work, everything came to a close for the teams of the 2022 cohort on Friday. Almost 60 fellows presented their work with more than a dozen Federal government organisations and the German parliament. Some of the Tech4Germany multidisciplinary fellow teams – consisting of design, engineering and product – had smoother experiences with their project partners than others. But running a discovery and picking the most suitable path to an alpha prototype in 3 months is never an easy task. Building on different approaches, experiences and mindsets in the fellowship teams and the Federal government's project partner doesn't make it easier. So significant time and energy needs to be spent on alignment of ways of thinking and working.
All prototypes and documentation will be made public in the coming days. That makes the work visible and possibly creates some expectations for the project partners and their organisations from the public and civic tech community. Most likely, projects would not be continued by the same people, so that they would require some re-discovery, even with the most thorough documentation.
Witnessing the final presentation and closing event for the first time, I was impressed with the presentations' quality and overall production of the day. All three parties did an outstanding job: the fellows who presented with their project partners and the team working on the fellowships equally.
The one thing that always has my attention is the presentation slides and their wordiness. Friday's slides were just as they should be: focussed, tidy and only containing the words that are needed. Nothing else. Every presentation was well-rehearsed and nearly flawless. Any minor hiccups were absorbed by the friendly audience and only made the presentations more human.
The event's official part finished with a panel discussion on attitude of 45-minutes. That can be a rather dull session – but it was the exact opposite. My colleague Johanna helped the 5 participants from the Work4Germany programme – some fellows, some ministerial project partners – prepare without making it feel staged and managed a good flow: people shared noteworthy anecdotes, examples of appropriate detail and memorable sentences, too.
In the end, I hoped for mentioned initiatives kicked off by Work4Germany fellows to continue, for newly adopted approaches to stick and for energy levels to stay where they were on Friday. I left the hall inspired and optimistic about German government's slow but steady transformation to iterative, pragmatic, and evidence-based doing.
What's next
I've scheduled the 1st of 2 accessibility kick-off sessions for next week. The second one will follow the week after. It will be an interactive session for those interested in getting involved and learning more about practical digital accessibility at DigitalService. It's the starting point of the accessibility ambassador working group.
The 45-minute sessions will include a short welcome note and a hands-on exercise.
In the session, colleagues will:
hear what it means to become an accessibility ambassador
find out what others think we should work on regarding accessibility
decide how the accessibility ambassadors want to organise themselves
Earlier this week, I asked the Twitter crowd for tips on running accessibility audits for native mobile apps. People had some valuable pointers and references. One led back to the German government. But, unfortunately, it got me nowhere.