In a little working group, a part of the design team got together to review the latest draft of our design principles in the making. We started the work in late September and now progress it whenever we find the time. Marlene and Carina are doing an excellent job in shepherding the work and facilitating sessions every while net to or in the team's 'Design Weekly' sessions.
One of their ideas is to adopt 1 of 7 design principles, mentally carry it around for some weeks, and try to apply it wherever possible. That shows a robust alpha-testing approach at work. I will try to do that with one of the drafted principles and see how it goes.
Articulating better what design is and does
As the organisation grows, we are tweaking and changing how onboarding for new starters works. Given DigitalService is still a comparatively small organisation, we have a lot of freedom and can work closely with our onboarding manager Barbra. We redesigned the entire content as part of the introduction to our disciplines.
Design, engineering, product management and transformation management each have a similar section based on the same template to explain what they do. So Marlene and I did some word-wrangling and ended up with the following value proposition:
We make insights tangible and design valuable solutions that work well for all users"
In large type, we only have 4 lines. So there was a lot to cut away. We wrote more 4 bullet points to summarise what that looks like and means in practice:
Conduct research and inform projects with qualitative and quantitative data
Spot opportunities, reduce complexity and make things understandable for users
Design inclusively and iteratively, considering end-to-end journeys
Facilitate shared understanding of user needs and ensure value creation in each development cycle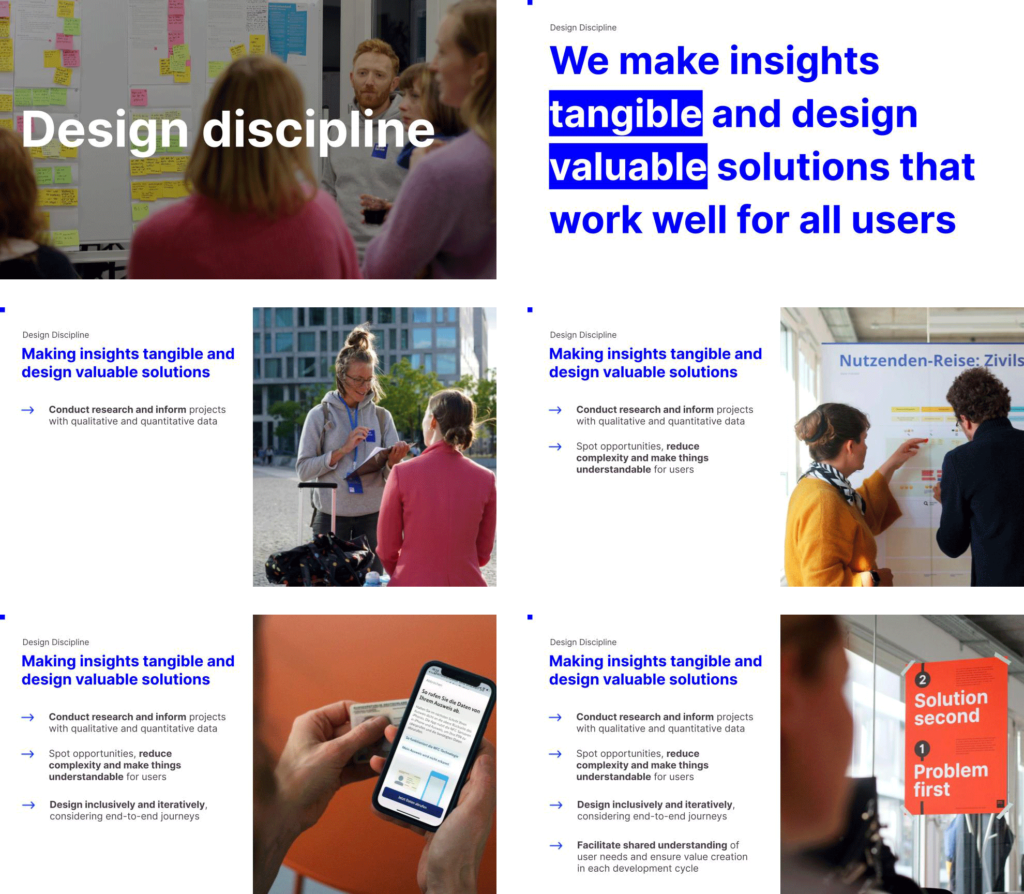 These descriptions tie closely into our design-level skill descriptions that are still in the works. Here, the emphasis is stronger on what sets design apart over what it has in common with the other 3 disciplines. This short set of slides will become useful in other contexts as well.
In a moment of glorious failure, I shared my draft of a new design discipline page in a design feedback slot with the design team. The feedback from the designers was universal and clear: "Don't write a novel about design and the design team, Martin!" And they are right. The idea is to nest new discipline pages under our website's 'How we work' section and create dedicated spaces for the 4 disciplines we have today.
In essence, the jobs to be done on that discipline page are:
show potential applicants the design and research approach at DigitalService is truly user-centred and mature
give people in government and administration an overview of what design and research mean in the context of digital transformation work
provide interested people an overview and let them dive deeper through linked content – suitable to their current understanding and available time
transport the vibes and spirit of the design team – for people considering accepting an offer from Digital Service
Relevant sections I've drafted in response to the designers' feedback are:
Short overview of what design and research are
Photographs of the designers and the design team at work
Blog posts we have written on design and research
Interviews with designers published so far
Links to recorded talks members of the design team gave
References to open resources like posters and stickers
As part of this work, I also looked around to see how other design teams are representing themselves and showing their work. Apart from the outstanding examples of Airbnb and Spotify, respondents also highlighted the teams at IBM, SAP and Google. All are different, but only some are interesting.
In a more specific application of graphic design skills, Daphne finished the work on a small booklet collecting op-ed columns written by our CEO Christina for public sector publication. On and off, we tried to find evocative illustrations that complement each of the 6 texts but are abstract enough not to be too precise.
What's next
Taking some weeks to breathe, I am starting to look into opening new design roles again. The recruitment and people team are still fairly busy with hiring other roles but design, but I need to develop an overview of what projects and teams need further design capability the most.
We will have a group of students from the Netherlands visit us next week. Our new general design slides may be useful for that visit.