This week was 1 day shorter but felt the opposite. It was dense with many meetings, plus some welcomes and goodbyes. We had a farewell evening, a high-profile talk, and an extended strategy exchange.
For Thursday evening, designers Charlotte and Tine organised a 'Let's talk vision' session with our Chief Product Officer Stephanie. Everyone from the user-centred design discipline was invited and got a virtual whiteboard to collect discussion questions. People wanted to know how projects start, how they start in the right way, and what crucial success factors we can better influence. Stephanie shared her views, anecdotes and outlook over snacks, fizz and nibbles. She also wanted to hear what small or big transformation everyone had experienced while working on projects with ministerial partners.
Checking in
We reached out and initiated a public-sector user research exchange a couple of weeks ago. On Tuesday, Sonja and I hopped on a call with 4 colleagues in related roles at the state-owned IT provider Dataport and the Federal Printing Office. In the 90 minutes, we only scratched the surface and closed with more questions than we started. This first cross-organisational conversation showed a significant need for comparing notes, sharing practices and collaborating on shared challenges. For user research, that is tooling, budgets, stakeholder involvement and shifting mindsets. Understanding this needs to be an ongoing conversation, we plan to have a monthly catch-up and tie this exchange to the to-be-formed NExT community of practice.
Later in the week, we had a more specific exchange and follow-up about user research recruitment with colleagues from the German statutory pension insurance. They are looking into better ways of involving users in their development processes. It's another conversation to tie to the NExT community of practice, which we can hopefully launch soon.
Marking the beginning of June, I welcomed a new starter, Marco. He is joining us from Australia, where he worked for over 4 years with different parts of state-level and central government organisations. Adding another different international public sector angle to our work with departments can only be beneficial.
In a more formal matter, we trialled a new monthly check-in format for our project teams this week. It meant spending 8 times 30 minutes – including the project lead, chief of staff and strategy, chief product officer, finance manager, talent acquisition manager, and the heads of the delivery profession. The format should give us a comprehensive picture of how we can collectively support and offer your specific expertise to the project lead and their team.
Our June meetup is taking further shape. When tweeting, some spots were left and soon after, all gone. The agenda is still building, and we put the remaining to-dos together in a call on Friday. I also tweaked the poster and will send it to the printer shortly.
Through a few check-ins, Christian, Jutta and I made progress on our quarterly objectives. We will aim for 3, each of us being the primary owner of 1. I keep clinging to the Service Standard and will build upon the related objective from the previous quarter.
Friday morning, I participated in a cross-government branding workshop that included Federal ministries, states and cities. It brought together many perspectives on reviewing and consolidating brands in the German public sector to support and guide users better. In some of the breakout discussions, we also touched on improved domain management. I look forward to seeing more from this working group soon.
Checking out
We had to say farewell to co-founder Sonja. After almost 5 years, she's off to new educational adventures abroad. Without Sonja and her activities co-launching the Tech4Germany fellowship, I wouldn't be back in Germany cause there wouldn't be a Digital Service.
I helped design a 70-page booklet as a parting gift to fit her luggage. It recaps the last 5 years through public tweets, LinkedIn posts and internal Slack messages – including the exact number of emoji responses. Less than half of the posts and messages are from Sonja. Most are from her peers.
At GDS, we had a long history of great leaving gifts – from custom road signs to football scarves to personal posters. With the departure of a co-founder, it was time to bring that dedication to Digital Service.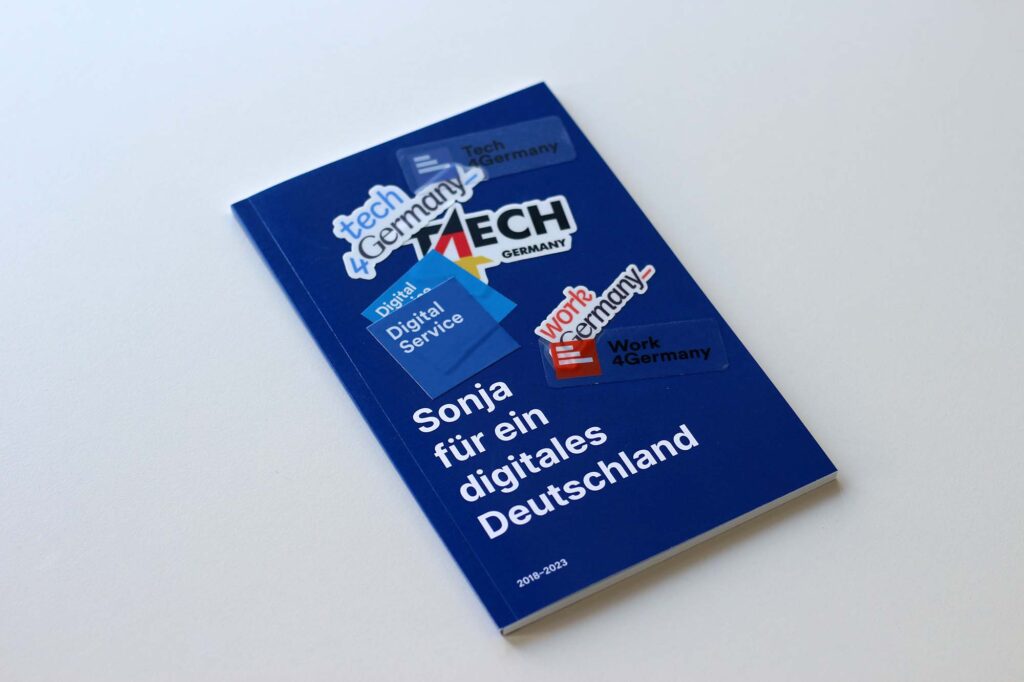 What's next
I will only work 2 days next week. I managed to edit various articles for our upcoming Service Gazette and designed the related pages on a long train ride on Saturday. There is still some work to do and little time left before the issue needs to go to the printer to be ready for Creative Bureaucracy Festival in 1.5 weeks. That includes designing the cover, which I have put off a bit.